During the 6-month incubation period, the entrepreneurs were supported by local incubators.
At the end of this phase, the incubators gave their feedback on the programme and the
the entrepreneurs.
–
Bidaya supported the entrepreneur Khalil Arafan of Palm Grove Software throughout the incubation phase. The partnership with Afrique Créative gave them the opportunity to support projects whose values are important to them and contribute to the development of a high-impact entrepreneurial ecosystem in Morocco.
Bidaya (Social Green Tech) is a specialist in seed-stage startups and social, environmental and technological innovation, and supports entrepreneurs in the development of their high-impact projects. Bidaya has proven expertise in selecting and supporting innovative and growing projects.
Thanks to Palm Grove Software, Bidaya was able to discover the world of video games and the artistic creation behind them !
–
Concree supported Awa Girard Diop of Deed Development. For Adia Gnacko "The Afrique Créative programme is a very rich programme that allows entrepreneurs in the creative and cultural industries to benefit from technical and financial support to initiate the development of their businesses."
CONCREE is an incubator specialised in the management and monitoring-evaluation of SME and startup seed programmes. Concree accompanies entrepreneurs from ideation to product market fit and combines incubation services with the development of digital technologies that enable virtual and face-to-face coaching programmes.
–
Ispace has supported Dzifa Anagblah from Safi Label during the incubation. iSpace Foundation is an innovation hub based in Accra, Ghana that supports individuals and organizations the entrepreneurship, technology, and innovation ecosystems. Since 2013, iSpace has supported entrepreneurs and startups by providing training, mentoring, investment readiness support, and other services to help them launch and grow their businesses.
–
🇨🇩 Kobo Hub in Democratic Républic of the Congo
Kobo Hub supported entrepreneur David-Douglas Masamuna of DL Multimedia. Kobo Hub believes that: "The opportunity to run Afrique Créative in the DRC gives us increased visibility and notoriety, especially the recognition of Kobo Hub as an SAEI with a specialised ICC programme under its belt. It is also an opening to new partnerships with international organisations for the deployment of their project in DRC."
Kobo Hub is a Congolese platform dedicated to the acceleration of startups and young companies in the Democratic Republic of Congo and is involved in training and mentoring startups to help them grow. Kobo Hub supports project leaders by providing them with a network of multidisciplinary experts, access to skills, resources, and infrastructure essential to the success and growth of their projects.
–
🇧🇫 La Fabrique in Burkina Faso
La Fabrique supported entrepreneur Rosine Arzoumpoko Kiema of BiiBop. La Fabrique believes that "This programme also allows the entrepreneur, who is evolving in a cultural and creative ecosystem, to be able to clarify and take a step back from her activity in order to have a better visibility on the key points to be improved or modified for her business to scale up."
La Fabrique is the first structure in West Africa entirely dedicated to supporting social entrepreneurs. Born from the desire to highlight an endogenous, more sustainable and healthy mode of development, La Fabrique has been deploying its expertise since 2014 to businesses that put economic performance at the service of social impact.
–
Lab'ess accompanied the two entrepreneurs Awatef Mosbeh of Morbiket and Mohamed Ben Saïd of Akacia Productions. Roméo Morabin believes that "The partnership with Afrique Créative allows Lab'ess to position itself as a player in the support of the Cultural and Creative Industry in North Africa, and to expand its network to the entire African continent."
Established after the revolution in 2012, the Laboratoire de l'Economie Sociale et Solidaire (Lab'ess) aims to support non-profit organizations and impact entrepreneurship as an emulator for inclusive and sustainable development. The Lab'ess sensibilizes, supports and funds all the ones who act and disrupt for the good of all.
–
🇺🇬 The Innovation Village in Uganda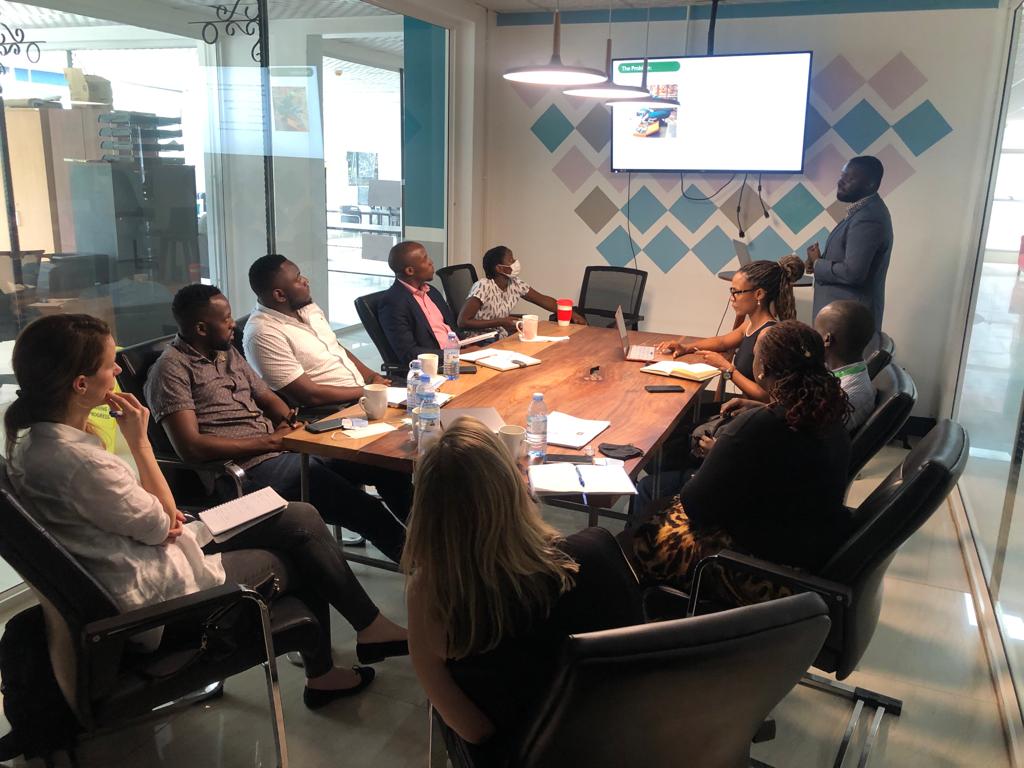 The Innovation Village has supported the entrepreneur Andrew Ahuurra from Quad-A Records. TIV thinks that : "The Program has given the entrepreneurs a chance to refine their ideas and businesses to create more scalable and sustainable enterprises. Along with the multiple tools and training provided, the entrepreneurs have also gotten a chance to network and interact with various other enterprises and industry experts, making for a much more practical and tangible experience."
The Innovation Village (TIV) is an Entrepreneur Support Organization and Uganda's leading Startup Ecosystem Convener, working with various partners to support Founders, Start-ups, and Micro and Small Enterprises with Bringing Ideas to Life.
TIV, through the Future Lab Studio, runs various programs in partnership with Enterprises and Entrepreneur Support Organizations connecting Tech and Tech-enabled Start-ups to the opportunities, tools and capital that they need to solidify their value proposition, validate an investable market, prove a profitable business model, and move beyond early adopters. The Future Lab Studio also partners with community Startups and talent, Entrepreneur Support Organizations and other ecosystem partners to enable Enterprises to identify and exploit tech-enabled growth opportunities.